Name: lafuma Le Feiye Origin: France Website: http://
Introduction:

The Lafuma Group was established in France in 1930 and is a famous French brand. It is also well known in the European market. Its main products include all kinds of clothing, travel bags, outdoor shoes, tents and all kinds of camping supplies. Its price is high in the European market and it is a combination of high-end products and mid-range products. That is to say, you can make professional clothing for extreme sports, and there are many casual clothes that you wear everyday.

War and peace are only between one idea and another. LAFUMA, originated in France, initially produced outdoor tables and chairs as the main product. At the time of the Vietnam War of Independence in 1950, LAFUMA was required to produce standard military backpacks at the request of the French army, and LAFUMA backpacks had excellent performance for jungles, swamps and even desert areas. Later, it was the main equipment designated by the famous French mercenaries who were brave and brave. After 1960, in order to respond to the prevalence of leisure in the world, LAFUMA re-employed many mountaineering experts to jointly develop a number of professional backpacks and a variety of multi-functional leisure backpacks. It is necessary to start developing functional casual wear after 1990. The company has taken the lead in adopting high-tech GORE-TEX, waterproof and breathable fabrics. LAFUMA has a wide range of product kingdoms and is one of Europe's leading brands.

The domestic market is mainly sold through counters in shopping malls and it has entered the outdoor shop this year. In the Yaohan seen Lafuma counters, things are good, that is expensive, things are very attractive to girls, probably related to the French romance. These big brand websites do very well, English, German, Japanese, and some of them are Korean, that is, we do not have Chinese. It seems that China's economy needs to continue to develop at a rapid pace. More people are joining the outdoor community. The market is big, and people are paying attention.
[1] [2] [3] [4] [5] [6]
Name:

Silicone Kitchen Tools

Material

100% food grade silicone

Size

Total Length:Skimmer:38.2cm

Slotted spaghetti:35.5cm

Slotted turner:30cm

Spoon:37.5cm

Slotted Ladle:37.5cm

Soup Ladle:33.5 cm

Weight

948.3g/set

Usage

Ovens,Microwave ovens,Dishwasher and Freezer

Feature

BPA-free, heat resistant, food grade

Color

any pantone color
Silicone Kitchen Tools Set includes slotted turner, slotted spoon,

Slotted turner

, solid spoon, ladle, pasta fork

Silicone Kitchen Tools Practical and stylish, these tools have a soft-grip handle making them comfortable to hold and heat safe to 400 degrees fahrenheit.

Silicone Kitchen Tools

Nylon tools are perfect for nonstick pans

Silicone Kitchen Tools Dishwasher safe for convenience
Silicone Kitchen Tools Pictures: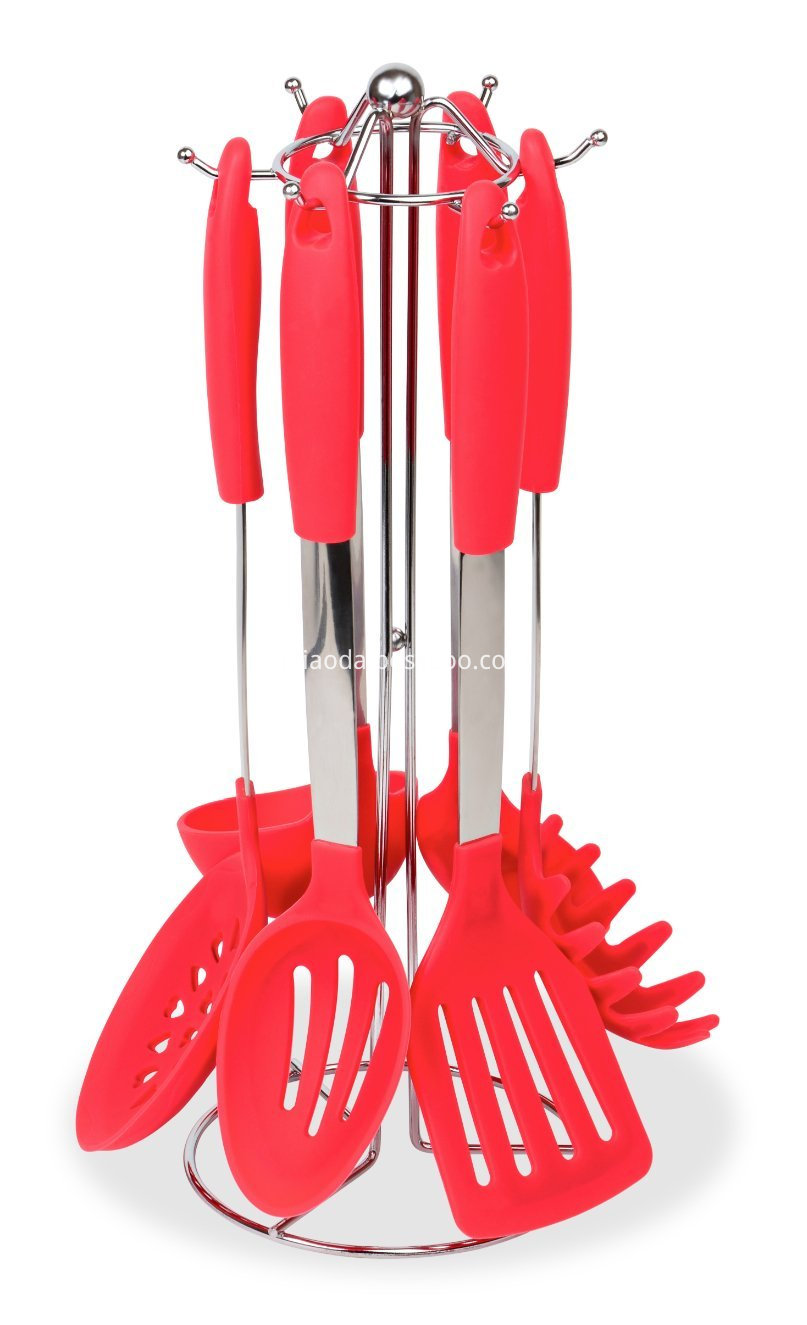 Silicone Kitchen Tools
Silicone Kitchen Tools,Silicone Kitchen Utensils,Kitchen Gadgets,Essential Kitchen Tools
Shenzhen Feiaoda Technology Co.,Ltd , http://www.flysilicone.com